Just a quick reminder that we should all start reciting the Takbir at-Tashriq beginning from Fajr on the 9th of Dhul Hijjah, continuing through Asr on the 13th.
This should be recited immediately following the prayer, by anyone who offers the fard prayer, whether male or female. There are some valid differences within the madhhab about who the takbirs are wajib upon, as well as regarding the exact phrasing of the takbir, but the safest position is that everyone should recite them.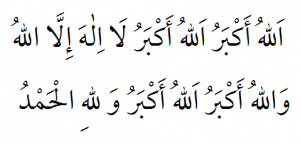 "Allah is the greatest, Allah is the greatest, there is no god but Allah.
And Allah is the greatest, Allah is the greatest and to Allah belongs all praise."
Also, don't forget to fast on the 9th of Dhul Hijjah:
Abu Qatadah (radiallahu anhu) narrates that the Messenger of Allah (sallallahu alaihi wa sallam) said, "Fasting the Day of Arafah (9th of Dhul Hijjah) expiates for two years, one prior and one forthcoming." (Muslim)